The story of Panto, so far!
Soon the curtain will go up on this year's panto, Dick Whittington – full of hilarious gags, original songs and audience participation.
But while we've been spotting the occasional panto character out and about in Winchester, what's been going on behind the scenes to make it happen?
Here's our story of Panto, so far!
Work for Dick Whittington actually began in January – when our writer and director James Barry, and our composer and musical supervisor Simon Slater, started crafting the words, music and songs that would make Dick Whittington a hit!
Around this time they were also nominated for a Great British Pantomime Award, in the Musical Achievement category, for their original musical score for last year's Beauty and the Beast! Sadly they didn't take home the award, but they're still winners in our eyes – we're sure you'll agree.
In May our Creative Producer, Rachel Fox, started designing the costumes for our characters to wear, which she and her team began to create a few months later. Since then we've been signing for numerous parcels for Rachel, containing hats, shoes, glitter – and much, much more!
Early summer saw our support cast auditioning – and what a talented bunch of strong dancers and singers we have! The professional stars of our show were picked too – Ed Thorpe (who plays Dick Whittington), Julian Eardley (Dame Dolly Dumpling), Kristopher Milnes (King Rat), Jessie Angell (The Cat), Joanna Brown (Alice Fitzwarren), Jon Bonner (Alderman/Captain/Sultan) and Libby Gore (Fairy Bow Bells) – and we're so pleased to have them all on board.
Then in July Ed and Julian popped up in costume at Hat Fair – Winchester's annual festival of Outdoor Arts – for photos; before Julian – again, dressed to the nines as our beautiful Dame – officially launched our panto in September, with a sketch in the Brooks Shopping Centre and a walk up the High Street, stopping for air kisses and selfies. Our Dame was in her element! Julian also chatted to journalists and radio hosts to promote the show.
You could say panto season had officially begun! But there was still a way to go, and lots more preparation and excitement to come…
Our support cast started learning dance routines then several weeks ago our professional cast received their scripts and came together at The Nutshell Arts Centre for their first group read-through and to begin rehearsals, which have been a joy to watch.
Next, Ed, Julian and Jessie took to the stage at Winchester's Christmas Lights Switch On to help the city's Local Heroes fill the streets with lights – and took the opportunity to get a cheeky snap with BBC sports presenter, Mike Bushell. Julian also nipped in to the Snow Globe for a play!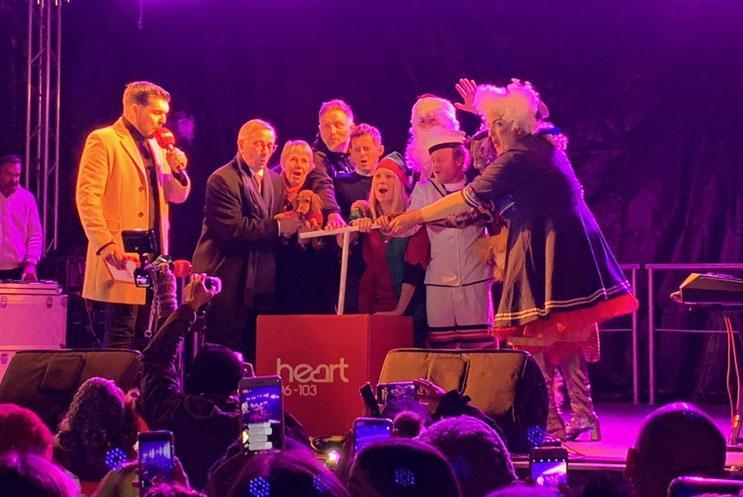 Back at the theatre, the rest of the crew have now taken up their roles – adjusting costumes, rigging the lights, giving the stage a new lick of paint, building the stage and tweaking the music.
Soon our cast will arrive, ready to rehearse on stage and for final costume fittings.
There's a general buzz in the air and our Front of House staff have decorated the place with fairy lights and Christmas trees to make it extra special for this festive season.
It won't be long before the dressing rooms are decked out too, with cards wishing the cast well, their favourite interval snacks – and make-up (much of it for the Dame alone!).
Then, it'll be 'Please ladies and gentlemen, can you take your seats' and lights up!
We can't wait for that first night – and we hope you'll join us too!
It wouldn't be Christmas without a seat at our panto, after all!