Our Spring 2020 highlights!
We're looking forward to welcoming you in 2020 with an exciting programme of shows and events that will intrigue and excite regulars and audiences new to the theatre.
As always there is dance, drama, comedy, music, family and community performances lined up, talks by well-known personalities – and now, with the opening of our new Cafe Bar, jazz nights and free events, which showcase the very best in local and emerging talent. With so much in store, make sure to pick up a brochure to discover the show, or shows, for you!
The new year kicks off with music and Graffiti Classics: The Comedy String Quartet (Fri 31 Jan) breaking down elitist boundaries with an all-singing, all-dancing musical comedy show that features everything from Mozart to Elvis and Saturday Night Fever.  
OperaUpClose – who create more accessible operatic productions – bring to the stage a new English version of Puccini's Madam Butterfly (Thur 5 March), based in 1980s Japan where traditional culture opposes a new digital age. The music of Marvin Gaye (Wed 12 Feb) is celebrated; and there are performances from singers such as lead-singer of Bellowhead, Jon Boden (Mon 9 March), and John Illsey (Wed 11 March) from Dire Straits.
Families will adore stage adaptations of best-selling children's books, Raymond Briggs' The Bear (Sat 1 – Sun 2 Feb) and The Tiger Who Came to Tea (Fri 17 – Sun 19 April), TV's Sarah and Duck (Sat 8 – Sun 9 Feb), which sees the friends planning a birthday party for Scarf Lady – and Peppa Pig (Sat 7 – Sun 8 March) is back, for her 'best day ever'!
Children will also enjoy Oddsocks' The Adventures of Pinocchio (Sat 15 Feb), with its imagination, music and humour; be blown away by Morgan & West: Unbelievable Science (Sun 15 March) and learn how to make music with Shlomo's Beatbox Adventure for Kids (Sun 1 March).
There is family drama with Patrick Lynch, from CBeebies, who performs one-man shows of Jack & The Beanstalk (Mon 6 April) and Puss in Boots (Tues 7 April).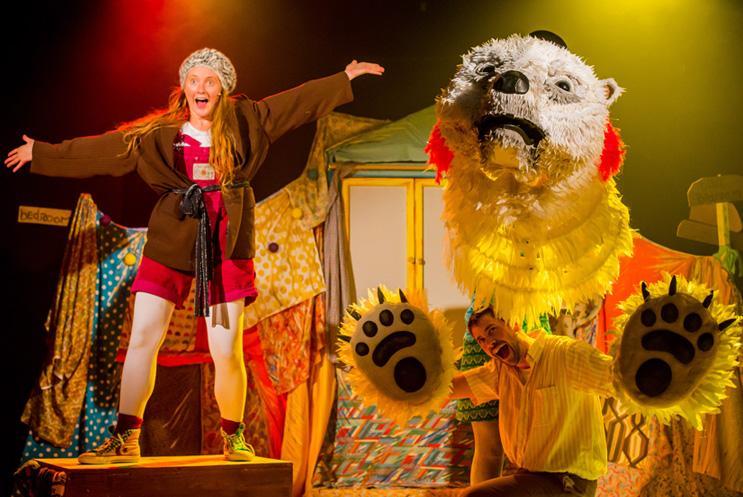 Stand-up comedy comes from the extraordinary Alexei Sayle (Mon 3 – Tues 4 Feb), Edinburgh Fringe sell-out, Phil Wang (Sat 8 Feb), Father Ted star Ardal O'Hanlon (Fri 14 Feb), Mark Thomas (Sat 18 April), who combines stand-up with storytelling and subversion; plus others plus you can explore the greatest mathematical mishaps with Matt Parker's Comedy of Maths Errors (Fri 17 April).
Also, fans of the stage versions of radio comedy classics, The Goon Show and Hancock's Half Hour, will enjoy their producers' next offering – Round the Horne (Tues 25 Feb) – starring comic characters including Rambling Sid Rumpo and J. Peasemold Gruntfuttock.
There is intense drama in Charlotte Bronte's Jane Eyre (Thur 19 – Sat 21 March) about an orphan girl's journey from a childhood of loneliness and cruelty, to life at Thornfield Hall and a relationship with the mysterious Mr Rochester; and chills in The Black Veil (Fri 28 – Sat 29 February), based on Charles Dickens' Victorian thriller about a mysteriously-veiled elderly woman who begs a newly-qualified doctor to visit a nameless patient – only for him to find himself embroiled in a web of lies and deceit that ends in death.
Crime comes in the form of Revenge (Thur 12 – Sat 14 March) – about an MP who finds his party agent has been killed in a tragic accident (or was it?), directed by Louise Jameson (Eastenders, Doctor Who). Then Crimes, Camera and Action (Wed 15 – Thur 16 April), set in golden-era Hollywood, tells of a Humphrey Bogart-esque spy who investigates the death of a screen starlet, stabbed as a result of a prop mix-up on set. Featuring a cast of four, taking on multiple roles!
Next, Alan Ayckbourn's Absurd Person Singular (Tues 21 – Sat 25 April) – directed by Michael Cabot and brought to the stage by one of the UK's leading touring companies, London Classic Theatre – is a story about social climbing in 1970s suburbia, about a small-time tradesman and his wife who throw a Christmas party for their wealthy neighbours, before the tables turn and cracks in the other couples' marriages begin to show.
Another book adaptation – featuring stars from TV's Coronation Street, Emmerdale, Hollyoaks and Holby City – Helen Forrester's million-selling By The Waters Of Liverpool (Thur 30 April – Sat 2 May), sees a family in the 1930s lose their wealth and treat their daughter Helen as an unpaid slave. Desperate to escape, things look up for Helen when she falls in love with a handsome seaman.
ACE dance and music present an evening of highly physical contemporary dance with SKIN Reimagined (Thur 6 Feb), which explores what lies beneath the skin; while Ballet Theatre UK bring to the stage one of the world's most cherished ballets – Giselle (Tues 31 March), a tragically romantic tale of a young girl who falls deeply in love and must save her lover from dancing to death.
There are talks from the likes of RSPB Species Officer turned TV presenter, Iolo Williams (Wed 5 February) and etiquette expert William Hanson, with Teacups and Tiaras (Wed 4 March).
Finally, our Cafe Bar will play host to Jazz Nights – in conjunction with Winchester Jazz Festival; as well as free music events showcasing the talent of local performers.